VA Antique Dealer's large estate in storage since 1980: Shop Inventory, Private Collection, Personal Items, 1950's Gift Shop Stock, Other Items. We DO NOT need to buy anything nor do we appraise your items.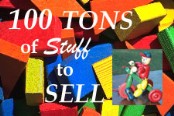 Estate Antiques
Happy 2015 !
100TONSOFSTUFF
Estate Antiques including: Glass, China, Pottery, Furniture, Perfume & Old Bottles, Paper/Ephemera, Pharmacy/Apothecary, Books, Magazines, Kitchen, Textiles, Jewelry, Seasonal, Dolls & Doll Furniture, Toys, much more!
We ship by weight Worldwide from Mechanicsville, VA 23116
WE ARE OFFERING FREE SHIPPING THRU 12/31/15 on lots of items!