#0805-Stylehouse China Set
100tos#0805 - StyleHouse Fine China, Japan, "Pierette",
Complete Service for 12 + All Serving Dishes 1960's
White w/swirl and tiny grey and red flowers w/silver rims.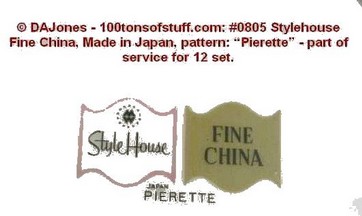 Circa 1965-1970 Complete Set for 12 including all serving pieces, all salads, all desert dishes, all lunch plates, all bread plates, cups & saucers, platters, sugar & creamer, etc. excellent condition, like new never used. In storage since 1970's, lovely swirl on sides of china pattern "Pierette" and Platinum (silver ) rims and trim on all pieces. Rims are wavy to match the swirl. Small flowers encircle all pieces in grey and red to match silver rims. This pattern is elegant in style and workmanship. Each piece marked on base with an "open book" or 2 sided shield or sign with "StyleHouse" and a circle above and Fine China on the other side, under that is Japan and pattern name: "Pierette". This china is part of my parents estate.
See photos. Asking $550.00 cash, Money Order. We will meet you at local church or post Office (23069 or 23116 Atlee) for delivery.
Thank you for your interest. This is for a large family and will completely cover a large dining table. Great for holidays or anniversaries or weddings. Inquire your interest please: 100tonsofstuff@gmail.com