Items in this Estate for Sale are Online
Only and More to be added.
We do not have a retail shop.
This is ONE Estate of Richelle's Antiques and personal items, their collections and some more recent items from our own household.
All items listed are for sale with Cash, Money Orders, Personal Check, or Credit Card through PayPal.
All item are priced according to today's value but your reasonable offers will be considered.
We ship
Actual Packed Weight
which will be determined at time of your intent to purchase. Weights given in description are actual weight of the item - not packed weight. We have included a
USPS Zone Chart on our Shipping page
to let you know your Zone according to your ZipCode. We ship from 23116 in VA zone 1 so if you are in CA you are in Zone 8 and shipping cost will be by that distance according to USPS, UPS or FedX.
Descriptions provided are by actual examination plus research from online sites, reference books and price guides. We photograph every item from all sides for a good look. The images will enlarge or you may request an even larger image.
We are in the greater Richmond VA area about 15 miles from our state capitol so we can arrange to deliver to a local post office or nearby business or a church parking lot with your item and CASH payment. This is good for larger items like furniture.
When you have selected an item and agreed on the price plus shipping we can send you an Invoice through PayPal or through our accounting program (checks money orders or cash) by email. We have sold this way since 1998 many many items.
Although this website inventory is large, there is still much more we need to put up so "stay tunrd".
Thank you for your interest in our estate antiques in storage since 1980 from my parent's shop and personal items.
DAJ
Please do not go looking for this store. We have seen comments of people trying to use their GPS to locate us but end up frustrated.
We have chosen to use a local post office as our business address.
If you are local, we can meet you with your chosen item.
Or we can send you larger photos.
Descriptions provided are from actual examination noting anything that may not be perfect. Antiques are rarely perfect ! but we want to let you know exactly the condition of the antique.
Included in the box is a Delivery Receipt, copy of our Invoice hand marked PAID.
Packing boxes are from retail stores, packing material plastic bits or plastic grocery bags.
Fragil items may be boxed twice which will increase shipping weight but we want you to get your fragile items as pictured. Our track record so far is 1 lost by post office and 1 bottle broken. We refunded our customer in full.
Antiques are very special items that have outlasted generations - !!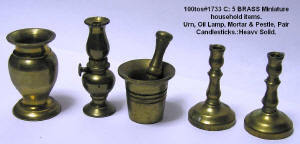 Small Brass Minature items from 1950's Gift Shop
Places we can meet with you:
Hanover Courthouse USPS on northbound side, 23069
Hillcrest Baptist Church, US 301 Hanover Courthouse Rd., Hanover, VA 23069 on southbound side
Antique Village Mall, US 301 southbound side parking lot near Hanover High School, Chamberlayne Rd. Mechanicsville, VA 23116
USPS Atlee Branch, Hanover Commons Shopping Center, 23116
Note: US 301 changes names at Stumpy Rd to Hanover Courthouse Rd then to Chamberlayne Rd southbound after Stumpy Rd.
Although we accept PayPal online, we only accept Cash when we meet you in person.
Wh
en we offer to send you our Invoice we will accept your USA Check, USA Money Order or Cash.
All items listed have their weight, not packed for shipping weight which we must calculate from your ZipCode.
If you want to Pay By Credit Card: The invoice that comes from us by email will have a live link that will go to PayPal which will have 2 choices: pay with PayPal or under that pay with your credit card. If you choose credit card it will go to a payment page where you can fill out your credit card payment details (we do not see any of that).
BTW: PayPal now accepts debit card transactions. (we do not recommend debit cards as we consider them not secure).