POTTERY items from Richelle's Antiques Estate also include their household items. This estate was packed up in 1980.
All items clean/washed as needed.
Sometimes it is hard to tell if an item is pottery or china but your first clue should be thickness of the rim. Next is weight as pottery is always heaveier plus basemarks or glaze is not present of base that has touched the Kiln to fire it. And that surface is usually not smooth.
Marks can be painted on the item after it was fired or before it was fired and reglazed then fired again.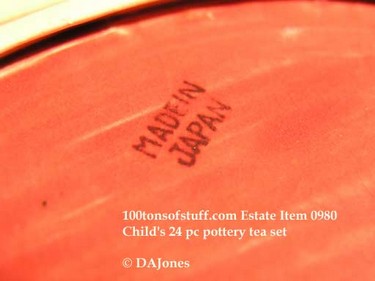 If you have any questions
let us know
. We do not buy anything.